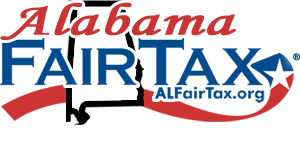 September 27, 2018: Huntsville FairTax Monthly Meeting
09/27/2018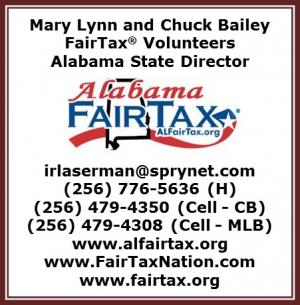 Reminder of the date, place and time for this month's meeting.
Date: September 27, 2018
Place: Zeriss Realty, LLC
2225 Drake Avenue
Suite 14 [near Huntsville Senior Center, across street from
Fire Station No. 6]
Huntsville, AL 35805
Time: 6pm
Hello FairTaxers!
No speaker this month, but attendees have requested a couple of examples of how the FAIRtax benefits lower to mid-income employees as compared to the new tax law passed last year. We'll look at several examples for different levels of income which were published in the Motley Fool's coverage of the effects of the Tax Cuts & Jobs Act. We welcome everyone who is interested in learning more about the FAIRtax and doing something about eliminating the income tax system.
We're still fundraising to pay for the update required to the rate study. This update is needed to finalize the bill before next year's session and to "market" the bill across Alabama. We have Speaker McCutcheon helping us get this done and we also need your help. He has pledged $500 toward the update and we thank him. Many thanks to Rick and Sandy Hall, Tony Gasbarro and Ralph Weber, all of whom have also donated to to the cause. The study requires $2,500 dollars for the Tuerck Foundation to update it with current fiscal data, so donations are needed. If each person on this mailing list forwarded $15, we could immediately start the update. We need to know the rate so the Legislative Fiscal Office can verify that the tax is revenue neutral with the current system. And, since we're a 501(c)(3) educational non-profit, your donation is tax deductible. Or, if someone has an extra $2,500 to help complete this study, we'd be most appreciative: as will your children and grandchildren! If we don't do this, who will?
Please make check payable to our 501(c)(3) educational non-profit ---
Fair Taxation For America Education Association, Ltd.
Mail to -
FTFAEA
110 Hartford Road
Owens Crossroads AL 35763
This donation is tax deductible, so you will be mailed a receipt for your records.
Check out this article: https://fairtax.org/articles/grassroots-corner-8-17
Thanks!

See you Thursday! Bring your neighbors and friends!
Best regards,